If you have travelled to or within Thailand, there is a good chance you have been on a PG flight. Now its time for the Bangkok Airways

FlyerBonus Review.
As of July 2018:
Bangkok Airways has previously been awarded "Best Regional Airline in Asia" by Skytrax World Airline Awards in 2004, 2005, 2008, 2009, 2014, 2016, 2017 and latest in 2018. The airline also won "Southeast Asia's Best Regional Airline" in 2006 and 2007 and "World's Best Regional Airline" in 2014, 2016, 2017 and this year 2018 as the fourth time for the airline to receive the title from the prestigious Skytrax Awards. Original Press Release

Having flown the airline several times, the actual product is fine. A fleet of predominantly A319's and A320's and a handful of the little ATR72's all doing short to medium-haul in and around Thailand.
Food is so-so, and the seats are what you would expect. No personal IFE and the crew are generally good - no real surprises. They are not a Full-Service Airline, nor a Low-Cost Carrier, and fit nicely in between.
Overall, Bangkok Airways has a reasonable product, given its positioning as a regional carrier. They are what they say are.
Interestingly, Bangkok Airways also owns three airports in Thailand - Trat, Sukhothai and Koh Samui. And, but they are the only airline that flies into Trat and Sukhothai.
For Koh Samui, they share the Singapore route with Silk Air. Plus, some additional routes from China/Tibet (Lucky Air, Chengdu Airlines, Tibet Air). And fly all other routes to and from Koh Samui without competition.
Recently they reached a deal for Thai Airways to stop flying from Bangkok to Koh Samui. As of September 2018, they have created a Domestic monopoly on all domestic flights to/from their airports.
There have been rumblings about consistently higher prices on the routes to and from the airports owned by Bangkok Airways. To add more fuel to the fire, more recently there are reports of, and subsequent punishment for, share price manipulation.
Are the higher prices really true?
To look deeper into this, we did a quick analysis of prices flying direct from Bangkok domestically. For consistency, we chose the same day and cheapest flight (promotional fare) on that day.
Given all of the flights range from 143 Miles (Trat) to 435 miles (Chang Rai), it seems there is a vast discrepancy, even ignoring taxes. We will leave it to the airline pricing and yield experts to have a more informed analysis as we are sure there are many other variables. However, at face value, you can see the price differentials.
Also, as of March 2019, a new ticketing fee has been introduced based on booking channel, increasing the prices further.
Let's take a look at the FlyerBonus Program

At face value, FlyerBonus has what you would typically expect from most airlines (whether part of an alliance or not).
Multiple Earn and Redemption Opportunities:
An interesting mix of alliance and non-alliance airlines (Bangkok Airways, Etihad, JAL, Cathay Pacific, Jet Airways, and Qatar)
A range of Thailand based hotels. Langham Hotels and some boutiques at Bangkok Airways destinations
The usual suspects from a car rental perspective, as well as a Thailand based car rental company
Agoda (Earn only)
Credit cards from leading Thai banks and Citibank (Earn only)
Airline Ancillaries Options (Burn only)
Let's take a look at the earning potential first.
Within Thailand you earn set amounts per route per leg:
250 points for promotional fares (Q, V, G, B)
500 points for standard fares (Y, M, K, N, T, L, H)
750 points on routes with Business Class (C, D, J), where available.
It's interesting to note, if you look at the earn rate per mile or per dollar spent compared to the fares and distances themselves - they are nowhere near aligned.
Based on Spend (Domestic):
Converting Thai Baht to USD at a rate of 1:32, the earn rate per USD ranges from 2.67 points to 4.65 points per USD spent, across the three pricing levels - a 74% difference.
Using the full flex option, it ranges between $2.88 through to $3.64 - a 27% difference.
Based on Miles Flown (Domestic):
The range across the three fares is from 0.29 points per mile, up to 1.75 points per mile - a whopping 508% difference.
Again for consistency with a full flex fare, 1.15 points per mile to 3.5 points per mile - still a massive 204% difference. 
Based on Spend (International):
Still using a set amount per route, and again from Bangkok based on same-day flights six months out. And it is even bigger; ranging from 0.45 to 6.18 points per USD spent. A phenomenal 1,284% difference.
On full flex, it reduces down to a range of 0.45 to 1.74 points, which is 289% difference based on per dollar spent.
Based on Miles Flown (International):
For the miles flown, the range is 140% (Full Flex) through to 381% across the three economy fare levels.
Oddly, they do have a Bangkok to Mumbai and Male at consistent 0.5 points per mile (0.75 for business, 0.25 for promotional fares), and assume it is a codeshare agreement between the two airlines.
However, to get a true reflection of the value, we need to look at the redemption side.
Flights redemptions on Bangkok Airways are also fixed. 5,000 points for Economy and 7,500 for Business regardless of the route for Domestic. And a range of 7,500 to 12,500 for Economy, with 10,000 to 20,000 for Business on International routes.
Also, there are redemptions available for ancillary services. And for the same earn partners: hotels and car hire based on nights or rental amount, as well as the airline partners.
Is there Status with FlyerBonus?
There are two levels, the base level, called Priority, and the Elite Level, Premier. To reach Premier, there is a requirement of either (within a 12 month period):
35 Qualifying sectors - which means flying on Bangkok Airways metal and excludes R, P, S, X, U, and Z tickets
12,500 qualifying points (think typical status credits), outside of bonus promotions, and only on Bangkok Airways metal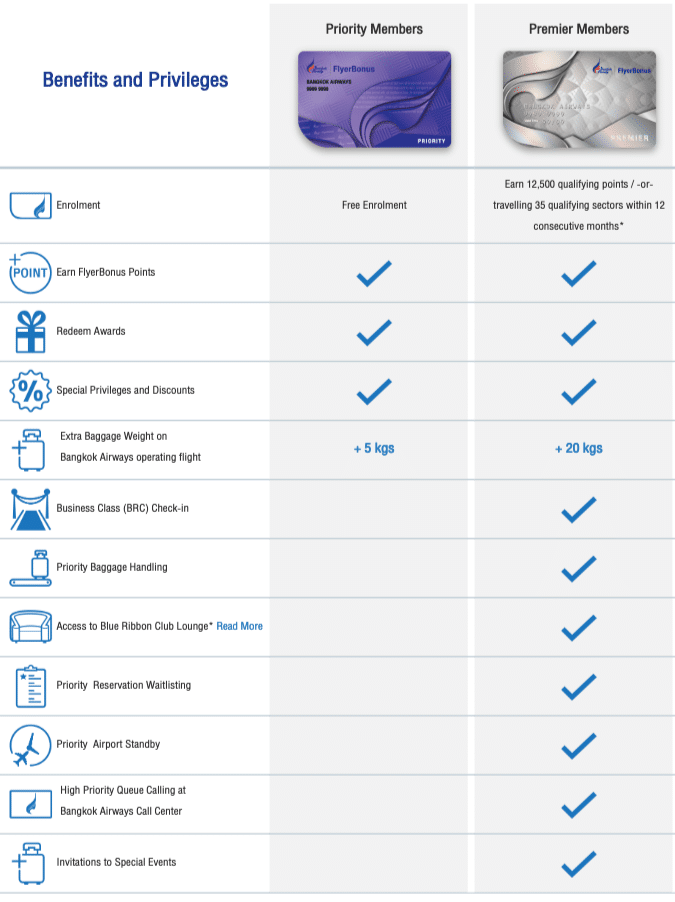 Bangkok Airways Lounge Access
One great thing about the airline is that they have either 'Courtesy Corners' or 'Boutique Lounges' for all customers, in addition to the Elite lounges and partner lounges.
However, one element that came as a surprise is the 'Member Only, No Guest' policy at partner lounges, such as Mumbai, Male and Hong Kong. That's ok for a solo traveller, but as a travelling couple or family, it's not. We know partner lounges charge per visit however we feel it is a below-par move to remove the travelling guest option. Very poor, in our opinion.
Bangkok Airways Resident Card
In addition to the program, Bangkok Airways also has a 'Resident Card' program for Residents of Koh Samui, Trat, Sukhothai, and Mae Hong Son. These Resident Cards provide a reasonable discount depending on route, time booking, and availability. It is open to Residents, Business Owners, Government Officials, and Students, with proof of address.
In the case of Koh Samui, it is also open to Medical Professionals, Monks, Landowners, and Married Partners of Island Residents. What's challenging is the term 'Island Resident' - with foreigners without a business, local married partner, or owning land, becoming ineligible - if which there are many.
The Verdict? A Coffee Card in the sky.
Fly 10 domestic legs and get your 11th one free (500 points x 10 legs = 5,000 points = 1 domestic redemption). The same as Joe's Coffee Shop on the corner, minus the punch card.
Coffee Card style programs can be beneficial when used correctly and explained to the member what it is in terms of the proposition. So, in this case, it still is a coffee card program with partners, disguised as an airline FFP.
Overall, not the best. It seems that the program was created from a mentality of 'everyone else has a program, we better have one, and it better not cost much' rather than one that:
Creates value for the member, and
Generates revenue for the airline
Our Rating
There is a big opportunity for Bangkok Airways to improve their program.
All images depicting Bangkok Airways and Flyer Bonus are courtesy of www.bangkokair.com.